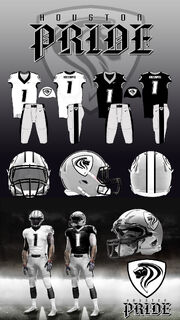 The Houston Pride are a fictional professional American football team based in the Houston metropolitan area. The Pride are a member of the United Football Conference (UFC) Gulf Division in the Continental Football Association (CFA).
Houston Pride

Logo
Inaugural Season
2010

League/Conference Affiliations




League
CFA
Conference
United
Division
Gulf

Personnel

Owner
Nathan Holtzapfel
General Manager
Nathan Holtzapfel
Head Coach
Warren Moon

Championships

League
2016
Conference
2016
Division
2011, 2016, 2018
Playoff Appearances
7

Home Fields

Field
Southern Star Stadium

(2012 - Present)

Corpus Christi Stadium (2010 - 2011)
The Pride franchise were among the original 12 that started in 2010. In the first two seasons the team played their games in Corpus Christi and were known as the Riptide. The team was also owned by CFA Commissioner Robert Cole. The team initially had plans to move to Dallas but couldn't find a stadium to play in and settled in Houston instead.
Corpus Christi Riptide (2010-2011) Edit
No content.
No content.
Houston Pride (2012-Present) Edit
This season marks the team's first season in Houston, Texas.
No content.
No content.
No content.
No content.
No content.
No content.
Year by Year Results
Edit
| Season | League | Wins | Losses | Playoffs? | Div. Champs? | Playoff Results |
| --- | --- | --- | --- | --- | --- | --- |
| 2010 | CFA | 11 | 5 | Y | N | Lost Quarterfinal Rd. 21-14 to Iowa (7-9) |
| 2011 | CFA | 12 | 2 | Y | Y | Lost Semifinal Rd. 20-10 to San Francisco (9-5) |
| 2012 | CFA | 3 | 13 | N | N | N/A |
| 2013 | CFA | 7 | 11 | N | N | N/A |
| 2014 | CFA | 10 | 6 | Y | N | Lost Wild Card Rd. 17-16 to Los Angeles (10-6) |
| 2015 | CFA | 7 | 9 | Y | N | Lost Wild Card Rd. 17-6 to West Texas (11-5) |
| 2016 | CFA | 12 | 4 | Y | Y | Won Continental Bowl VII 29-26 vs. New Jersey (16-0) |
| 2017 | CFA | 11 | 5 | Y | N | Lost Divisional Rd. 23-17 to West Texas (12-4) |
| 2018 | CFA | 12 | 4 | Y | Y | Lost Divisional Rd. 27-21 to Salt Lake (15-1) |
| 2019 | CFA | 12 | 4 | Y | N | Lost Wild Card Rd. 20-17 (OT) to New Jersey (10-6) |
| 2020 | CFA | 12 | 4 | Y | Y | Lost Conference Rd. 27-21 to San Francisco (14-2) |
| 2021 | CFA | 12 | 4 | Y | Y | Lost Divisional Rd. 23-14 to New Jersey (13-3) |
| 2022 | CFA | 8 | 8 | N | N | N/A |
| 2023 | CFA | 13 | 3 | Y | Y | Lost Continental Bowl XIV 33-27 to Ohio (12-4) |